A few days ago, the beta version of Android Auto 8.0 began to be deployed. And now the final version is doing so. This means that it is a matter of hours before. We can update this tool from Google Play on our smartphone and find the updated version.
However, all those who are already lucky enough to update this version are faced with many disappointments. Because the news that we have all been waiting for has not been integrated. A sensation that is repeated, as it has been so many times with the connection service between the car and the mobile phone.
Android Auto 8.0 disappoints the new design will have to wait
For months, there has been talking about the Coolwalk aesthetic. Which will make using your phone in the car much more comfortable and practical. However, this hasn't come with the 8.0 version. That everyone has been pointing to, so we're disappointed.
While it's not here, the update is basically to apply fixes and minor internal improvements. In our eyes, there are no substantial changes that would make us change the relationship we have with the system.
The only hope we have left is that Google, like before. Implements an Android Auto update and later I changed the design. Remotely, the company has the ability to apply changes. This can even be achieved right now with complex tricks. That require us to have a rooted terminal, so we do not recommend it.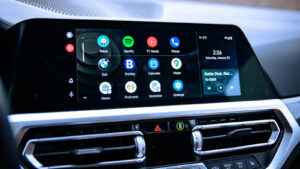 what is replacing android auto the key will have Android 13?
The relevance of this change was widely mentioned at the Google I/O event. Where a step forward for Android Auto to better adapt to cars and their screens was introduced. During this, we could see that the key will be the division into three panels. Which will allow the system to adapt to all cars since each one has a different screen from the previous one. Which does not happen so overwhelmingly with smartphones, at least until then foldable arrived.
On one side, there will be a map or the main multimedia content, where Google Maps will be the main point, on the other, a quick access section, where we will see the clock or weather and, of course, music control. The third section will be dedicated to quick access or notifications, as we can see in the following video, in which Google showed us, where the changes are for the better.
Now that we know Android 13, we can see a lot more links in this video with what we will have in Coolwalk for Android Auto. This leads us to imagine that sooner or later, but very soon, we will have a refreshed design at our fingertips.
All we can do is recommend that you update Android Auto on your mobile phone, so if any day the American company decides to activate a change in aesthetics, you already have it in your hands. and he can take advantage of it. Android auto not working as it should.