Microsoft will be marking OneDrive 15th anniversary of OneDrive with a new landing page with exclusive design and new features. There will be a new home page for OneDrive with new designs and features.
What is Cloud Storage?
Cloud storage is a method for people and companies to save data online securely. So, that it can be accessed anytime from anywhere and easily shared with other people who are granted permission. Cloud storage also offers a way to back up data to facilitate recovery off-site. People use cloud drive storage to secure their personal data and also to make backups. They can then download it on any device and anywhere. All they need is just an internet connection. This facility made this service very popular worldwide.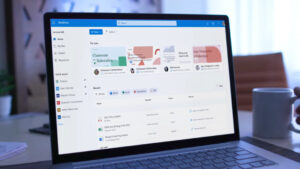 OneDrive
Microsoft OneDrive (formerly SkyDrive) is a file hosting service operated by Microsoft. First launched in August 2007, it allows registered users to share and sync their files. OneDrive also acts as backend storage for the web version of Microsoft Office. OneDrive offers 5 GB of free storage, with 100 GB, 1 TB, and 6 TB storage options available separately or with an Office 365 subscription.
 The OneDrive client app adds file sync and cloud backup features to your device. The app ships with Microsoft Windows and is available for macOS, Android, iOS, Windows Phone, Xbox 360, Xbox One, and Xbox Series X and S. Additionally, Microsoft Office apps integrate directly with OneDrive.
OneDrive offers a new design
On 15th anniversary, OneDrive will have a new landing page called OneDrive Home.
 According to The Verge, instead of going to the My Files tab when the user first opens OneDrive. They will be taken to a new home page that resembles the taskbar in the online version of Office. Similar to the Office web app, the OneDrive home page lists a user's files, organized by how recently they've been accessed. Above the list are filters that allow users to sort documents by Word, Excel, PowerPoint, and PDF file types. According to The Verge, there's also a new "Activity" column to the right of the file's "Owner" field, which tells a user when someone leaves a comment, @mentions another user, or assigns them a task in a shared document. On the left side of the home view, Microsoft is adding a new Quick Access section where users can find and pin their most frequently used places. Unfortunately, these changes are not reflected at the moment. According to The Verge, Microsoft said that OneDrive Home will be available in the "coming months."However, as it stands, the new homepage could serve as a central hub to help users stay organized while collaborating remotely, the server said.