We all know zoom for its easy and convenient video chat especially useful for academic classes in the pandemic of 2020. Now Zoom takes on Slack and Teams to enhance user experience and provide a better and more convenient platform. Previously zoom launched its Microsoft Teams integration for such purpose.
Zoom Team chat:
Our old zoom has now become Zoom Team chat. Under its new name Zoom will now let you share chats in a meeting in Zoom Team Chat, as well as schedule meetings in chats or channels. Later this month this feature will go public and everybody can get access to this easy and convenient new feature.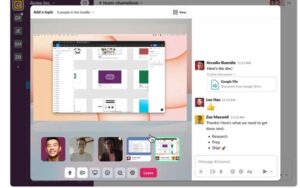 What are the new features?
Zoom Team Chat allows multiple messaging features to its users. These features include Text messaging and voice or video calls with better facilities. You can also use this platform if you have to share some files with your teachers or team members. These files could be any document such as a word file, some excel sheet, or even a PowerPoint presentation. You can also share some small video files and audio notes along with pictures. Zoom Team Chat also allows you to install third-party integrations to make yourself more comfortable. Teachers or team leaders can also use whiteboards along with videos and voices to make their fellows understand better.
So, whenever you have to share your creative ideas with your junior teammates or guide your students, Zoom Team Chats could be your first choice. Because everything you need you only has to push a button for it. Since Zoom became a partner with Slack, most of you will be curious to know;
What is the difference between Slack and Zoom?
Slack is actually a messaging program used mostly for group chats such as office or classroom discussions. On the other hand, zoom is a multifunctional platform that provides you with all the features of Slack and Microsoft Teams. So, Zoom definitely won the debate. If you are willing for another comparison i.e., slack zoom vs teams we will say Zoom Team Chat is the only winner.
Zoom has also ensured its users that there will be no compromise on the privacy and data security of their users. The data will be end-to-end encrypted and will be stored in high-security servers. We all hope that this new Zoom Team Chat will fulfill all the promises made by its developers.