The big tech company will come with its new model in the market this year. This new Apple smartphone "iPhone 14" will be launched in September 2022 as per rumored calling in the market, according to Apple News 2022 updates.
Apple Inc: Overview
An American technology-based company Apple Incorporation is worldwide famous for its innovative technology-based products. The big five American IT Company basically deals in manufacturing consumer electronics, online services, and software. According to the estimation by June 2022, Apple Inc. is the largest IT Company in terms of revenue and as a mobile phone manufacturer, it's the second largest.
Developments:
Before moving towards the iPhone 14 production news let's shed some light on the company's initial developments. Initially Apple.Inc launched personal computers with innovative features of graphical user interfaces but due to the high cost, the product suffered in the market of personal computers. Later on, Apple adopted the strategy of Steve jobs to gain profitability again in the market by developing and launching the iPod, iMac, iPad, and iPhone with the tagline of "Think different". These broaden the company's product line portfolio as well as the retail store chain of Apple in targeted countries and marketplaces.
Iphones:
The smartphone product line of Apple Inc. is called iPhone and according to iPhone news 2022 production, iPhone 14 is their latest version. The product iPhone has been composed of several features including an iOS mobile operating system, multi-touch screen, internet connectivity, web browser, call logo, picture taking option, messages and emails send/receive, and also music player option. Furthermore, it was modified with other features such as a large screen display, a single button on the front to easily return to the home screen, the ability to download different mobile applications, and also waterproofing.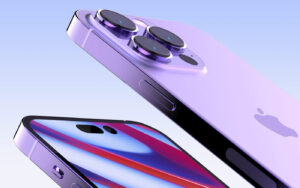 Revenue:
Apple has gained a large profit share from iPhone production. And has become a tough competitor in the mobile phone industry. Since the iPhone production journey started in 2007, Apple Inc. released iPhone every year with new innovations including iPhone models 4,6,7,8, and x. SE (Second generation), 3G models, SE (Third generation), 11, 12, 13, and now 14 models, by Apple News and updates.
iPhone 14 Features:
The device has been designed with new innovative features such as:
6.1 and 6.7-inch size, notch-less screen display.
Pill-shaped camera.
A16 chip, and X65 modem.
The camera bump for the iPhone could be thicker.
The device has been composed of a titanium frame.
Redesigning microphone and speaker.
A vapor chamber thermal system has been used to keep the phone cooler and also minimize the faster chips and internet connectivity impact.
An ultra-wide camera that results in a greater zoom, this feature is also expected in iPhone 14.
For improvements in connectivity and faster speed 5G modem X65 chip has been used in this device.
As reported by, iPhone 14 production news the product is expected to launch with a new emergency. Satellite-based feature with the help that users can send messages. And report accidents without any resistance and coverage in an emergency situation.
Production of iPhone 14
The smartphone product line of Apple Inc. and other iOS devices have been manufactured by Foxconn. Which is a Taiwan-based company (Republic of China). Tim Cook, the new CEO of Apple Inc. changed the manufacturing strategy in 2011 to diversify its suppliers. In 2012, the iPhone 4s was simultaneously manufactured by two companies Foxconn and Pegatron (Which is also
Taiwanese electronics manufacturing company). In the year 2013, both companies manufactured iPhones with immense increases in orders. Furthermore, the iPhone 5c, iPhone 6, and 6 plus were developed and supplied by these two companies.
According to iPhone 14 production news, Apple's vendor Foxconn will produce and ship iPhone 14 simultaneously by the mid of this year. Taiwan-based Foxconn has large facilities for production. The iPhone 14 series will include 14 Max, 14 Pro, and 14 Pro Max.