The most awaited mobile phone is finally released. Apple has launched its incredible iPhone 14 Pro and iPhone 14 pro max 2022 recently. Along with the spectacular design, the phone contains many impressive new features.
Key specifications for iPhone 14 Pro and Pro Max:
If we talk about design, Apple has made some minor but meaningful changes.
New design for a camera notch
Improved cutouts on screen
Apple has finally reduced the size of its front camera notch giving it a new pill shape. It is done by reducing the size of the front camera by 30%. Some other notch contents are also moved under the screen, especially the proximity sensor. Improved fine cutouts are very helpful to enhance user experience. This will avail users with more space for their activities.
There are also some regular modifications
Increased brightness of the screen
Brand new Quad pixel sensor
Apple is reportedly working to improve its photography experience for years. In Apple Event 2022 they said that they now added a quad-pixel sensor for the very first time in iPhone. However, it is quite old if we talk about android. The screen for iPhone 14 pro and iPhone 14 pro max has a maximum brightness of 2000 nits, which is brighter than before.
New modifications will allow users to reduce screen refresh rate as low as 1 per second (1 Hz). This will definitely be helpful for those who love to see an Always-on display in an iPhone. This feature is also pretty old compared to android.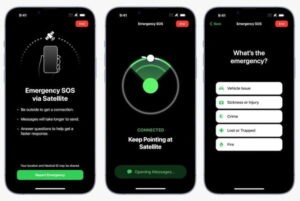 Satellite SOS Service
iPhone 14 pro series will have satellite connectivity in case of emergency to provide you with better SOS services. Apple claimed in iPhone 14 event live that users can access any satellite in case of emergency by Apple iPhone 14 pro max 2022. This service will be free for at least 2 years since no further subscription plan has been discussed yet. That's all we have for current Apple news.