At the start of August, Logitech announced in a press release to develop and launch a cloud gaming handheld under the Logitech G brand later this year with the collaboration of Tencent games. Both the big tech companies shook hands on 02, August 2022 in order to market a cloud gaming handheld that has Logitech G and Tencent Games hardware and software respectively.
General Manager of Tencent Games' Smart Solution Innovation Lab, Daniel Wu,
"Logitech G is a great partner to help us fulfill the goal of giving gamers around the world a better gaming experience because of their expertise in PC and console gaming hardware," says the company"
General Manager of Logitech G, Ujesh Desai, said,
"Tencent Games is one of the leading global platforms for game development, publishing, and operations, and has been at the forefront of innovation. We partnered up with them because of this.
About Logitech
One of the top producers of personal computers and other digital products is Logitech International S.A. It is a Swiss-American business, and the global offices of Logitech International S.A. are situated in Lausanne, Switzerland, and Newark, California, respectively. The company's product portfolio also includes attachments for tablets, a thumb-operated trackball, a laser mouse, cameras, Bluetooth speakers, universal remote controls, and more. These are in addition to PCs.
Logitech G Gaming Software:
There are several brands within the Logitech umbrella, and Logitech G is one of them including Logitech, ASTRO Gaming, Ultimate Ears, Jaybird, Blue Microphones, and Streamlabs. Logitech Gaming Software was created in early 2010 and Logitech G hub is nothing but a modern version of the gaming software. Logitech G gaming software is quite mature and has an older UI. However, in 2021 the company decided to say goodbye to the older UI.
Logitech G Hub
It is the new version and has an updated UI. On the other hand, all the modern Logitech gaming devices are only supported by the G hub. The company is working on its reliability and day by day it is becoming better. Currently, the Logitech G hub is available for windows 10 and mac OS.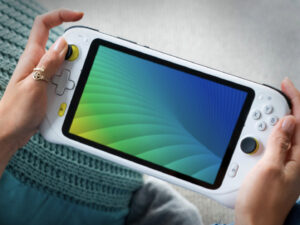 Logitech G Gaming Handheld:
After the press release on August 2, it didn't take much time. The image of the upcoming Logitech G Gaming Handheld is all over the internet. The image is now removed from Twitter because of copyright issues. However, google play store and Xbox logos can be clearly seen in it. As far as the user interface of the Logitech G Gaming Handheld is concerned, it is very much similar to the Nintendo Switch.
Is Future Logitech G Gaming Handheld Running Android?
Because the Google Play icon is present. It is likely that anyone using the future Logitech G Gaming Handheld will be able to download it. And install any software that is offered by the Google Play store. Additionally, the insertion of Google Play made it clear that an android-based app had been loaded to the device. Furthermore, the Qualcomm G3x platform has an Adreno GPU. And chipset built for Android handheld consoles may be utilized by the Logitech G Gaming Handheld. The information above is based on a photograph that was released on Twitter, thus it is not entirely verified. After all, only the companies can formally unveil the device's full specifications and new features.