Queen Elizabeth II, the longest reigning British queen, died on September 8, 2022. Her death was no less than a tragedy not only for people in the UK but also for people around the globe. Big tech giants including Apple paid tribute to her on their websites.
Queen Elizabeth II:
Elizabeth Alexandra Mary commonly known as Queen Elizabeth II was the firstborn of King George VI. She became queen of Britain when her father George VI died. She ruled the United Kingdom for 70 years starting from February 6 1952 which lasted till her death on September 8, 2022. Although she ruled for a very long time, people always showed great love and huge respect towards her. She was not only the queen of the United Kingdom but also head of Commonwealth realms which includes the monarchy of 14 other nations which includes many giant names like Australia and Canada. Her death made everyone on the globe sad including those who didn't even live in the United Kingdom or any country of the Commonwealth realms. The former queen of the UK married Prince Phillip, her cousin, on 20 November 1947. Prince Philip of Greece and Denmark was her cousin and she fell in love with him when she was just thirteen years old. They had four children, three were boys and one princess. Their names are
Charles III
Anne
Prince Andrew
Prince Edward
After the death of Queen Elizabeth II, Prince Charles III became the new king of the United Kingdom and monarch of all Commonwealth realms which includes 14 countries.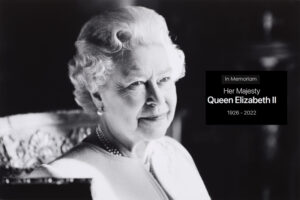 Apple Pays Tribute to Queen Elizabeth II
The Apple website team updated their webpage with a photograph of the Queen. The photograph was from her young age when she was 26 years old. Photographer was Dorothy Wilding who clicked this picture in 1952 when the reign of the beloved queen just began. Apple removed all featured products from the homepage to honor the queen.
Google also paid a tribute to Queen
Along with many other companies, American tech leader Google also paid tribute to the late Queen Elizabeth II by removing all colors from its homepage. Google turned its homepage to white and gray in order to pay tribute to the UK queen. Their CEO Sundar Pichai also tweeted condolences for people in the UK.