In today's digital world where everyone has their presence on different social media platforms for sharing their content in the form of media and also to have social connectivity. There are different social media applications being used by people around the globe which belong to Meta platforms, one of them is repost for Instagram. This social networking application is used for sharing photos and videos. In order to gain users' interest and better social experience, this app has been composed of interesting features. A new feature that imitates other social networks is being tested by Instagram. According to Instagram News, The app will add a new feature of reposting through which users can share other users' posts and reels on their feeds.
Instagram: Overview
In 2010, Kevin Systrom and Mike Krieger launched Instagram, which is an American social networking application for sharing photos and videos. Facebook which is now known as Meta Platforms Inc. later acquired Instagram, which is considered a reputable corporation in the world. Instagram allows its users to upload their photos and videos. When it first debuted for iOS in October 2010, Instagram quickly gained popularity with millions of users. Later Instagram was released for Android in 2012. Because of its interesting features, this app has become popular among its users.
Features: There are different features of Instagram, have a look below!
It enables users to upload their media such as videos and photos.
Users have the option to make their accounts "private," which forces them to manually accept any new follower requests.
Instagram users can connect their accounts to other social media networks.
It enables users to add filters and stickers to their media (photos and videos).
It also has the option of sharing stories of 24 hours duration like Snapchat and Whatsapp.
Users are able to like and comment on each other's postings.
It allows its user to do live streaming.
It also allows its users to share reels.
The app has an option for messaging.
Now it is rolling out that there will be an Instagram feature to repost, that users will use soon.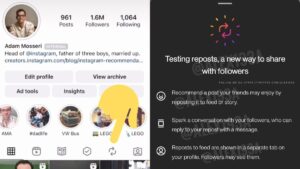 Users of Instagram:
Instagram has billions of active users around the world including teenagers, adults, males, and females. This application is being used for both personal and professional objectives. It is used for advertising products and services with the help of influencer marketing.
Repost for Instagram
Reposts, a feature that will display content from other users on your feed, is being tested by Instagram, according to the company. The Meta-owned Instagram has not yet made the repost option available to the general public, but it intends to soon start testing it with a small number of users. This feature will be similar to Twitter's retweets or the well-liked Facebook and Tumblr reshares that is also being tested on TikTok.
Instagram users are not entirely new to sharing someone else's post with their own followers. Users can only share public posts to their Instagram Story or through direct messaging with their followers. Through this feature, users could now share a post directly on their feeds without needing to screenshot or utilize another source. According to a Spokesperson from Meta, "We're investigating the possibility of resharing posts in Feed, just like you can in Stories."
Although you can now share someone else's post in your Story. It's important to note that this new repost functionality will allow you to share the post in your feed. Instagram is attempting to give users a better option to widely share posts they enjoy even though it is probably aware that many of its users already use the Stories sharing tool and DMs to share posts with friends.
How do you get the repost feature on Instagram?
Instagram has not yet released the new feature of a repost. But the company is still testing to add the feature and enabling the users to post. The contents of other users on their feeds like other social media apps. Instagram's repost function looks to have been in development for a while. Users can already share posts on the platform, but only within their stories, not in their feeds. Instagram users previously had to repost content through a third-party application or other sources. According to the rumors, you can have the option of reposting in a tab through. You can directly share other' users' content on your feed with your followers.