For years, gaming has quietly been a significant component of the entertainment market. But like many other digital experiences, the pandemic has fueled disproportionate growth. As per a report, 50 million Americans started playing video games in 2020. Video games have now become popular among teens and youngsters worldwide in terms of digital entertainment. Like other video games, the one which also gathers the attention and interest of game lovers is Call of Duty: Warzone. According to a report, a new version of Warzone. Which is called Call of Duty: Warzone 2.0 game is going to release this year also with a mobile version.
Call of Duty: Warzone
Call of Duty: Warzone is a free-to-play battle video game. Which was launched on March 10, 2020, for the Xbox One, PlayStation 5, and Microsoft Windows. Infinity Ward and Raven Software collaborated on the development of Warzone, which was then solely credited to Raven Software after the incorporation of Cold War content. The game was released by Activision. Although some limited-time game modes can handle 200 players, Warzone only supports 150 players for online multiplayer warfare.
Call of Duty: warzone 2.0 mobile download is also available for users. The game allows players to progress between the three aforementioned titles across platforms and play across them. Battle Royale and Plunder are two primary game modes at debut. "Buy Stations" is a new in-game cash system that is available in Warzone and will be utilized throughout the battlefield at locations.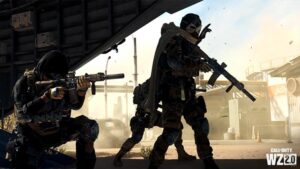 Call of Duty: Warzone 2.0
According to a report, the latest version of warzone will be released this year. This new version has been titled Warzone 2.0 and is for PlayStation 5 and Xbox Series X/S. Call of Duty: Warzone 2.0 is coming in November this year with an experience that has been completely redesigned. New Gulag mode, a sizable new terrain, and other updates are included in the Warzone 2.0 video game. Warzone 2.0 will be available for free to play, with players descending into the "largest" battle royale map yet.
With coastal towns, deserts, steep peaks, and a complete city to explore, Al Mazrah is a painstakingly created arena that was developed from the ground up. Players may be able to recognize this map from the upcoming Call of Duty: Modern Warfare 2 remake releasing on October 28 this year. It plays a vital part in the game's campaign mode. Tech Bloggers says that: this game is available for Xbox One, PS5, PS4, Xbox Series S/X, and PC via Steam and Battle.net.
Warzone 2.0 Mobile Download
Users can now play Warzone 2.0 on mobile. It will allow online 120 players to teleport onto the map in each session of play, just as its desktop counterpart. The two new Warzone iterations will share several features, such as social features (friends and chat) and cross-progression, which enables a shared battle pass system, according to Activision. The game is also anticipated to host mobile-specific playlists, events, and content with "deep customization options. Prior to its scheduled global launch on Android and iOS devices in 2023, pre-registrations for Call of Duty: Warzone 2.0 Mobile is already available on Android.