The upcoming official event of Google is expected on October 7. In which the company will announce the release of its smartphone brand Pixel 7 and 7 pros, moreover Pixel watch. Google will organize a Livestream for its viewers in which the products' price, specs, hardware, and availability will be unveiled. According to Google News, the Google new Nest Products venue of the event in Brooklyn.
Google News:
It is released on the official website of Google. In the upcoming event held on October 6, along with pixel 7 and its lineup. And google pixel watch, will also announce Nest smart home products in the Livestream of Google Event. In addition, if someone is willing to buy. The Nest product then the portfolio are available on Googlestore.com. The residents of New York City can physically visit the Google Store and do the shopping because they have that opportunity.
About Nest:
Google Nest is a company that makes smart home products such as smart speakers, smart displays, streaming devices, thermostats, smoke detectors, routers, and security systems with cameras, locks, and doorbells that can be controlled remotely. It was co-founded by Tony Fadell and Matt Rogers, who were the ex-engineers of Apple.Inc. The brand is formerly known as Nest Labs. Some of the signature features of the Nest products are they have wifi facility, are programmable, implant with self-learning, and sensor-driven mode. Now it is a subsidiary of Google and Google acquired Nest Labs in 2014. The announcement that all Google Home electronics products will now be sold under the Google Nest brand was made in July 2018.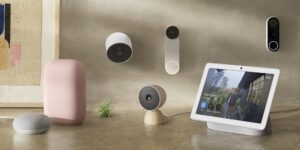 New Google Nest Products 2022
Some of the products of Google Nest are expected to be available at the coming October 6 event along with Google Pixel 7, Pixel 7 pro, and Google Pixel Watch.
Nest Doorbell (Wired)
Nest doorbells are basically, smart video doorbells that can recognize facial features. It is an internet-connected doorbell that sends a notification to the owner's smartphone or another electronic device whenever a visitor knocks on the door. It turns on when the visitor rings the doorbell or, alternatively, when the doorbell detects a visitor using its integrated motion sensors. The high-definition infrared camera and microphone embedded into the smart doorbell allow the homeowner to monitor and communicate with the guest via a smartphone app. It can be both wired and function with the help of a battery. It is rumored that the doorbell launch in the upcoming Google Event will be the wired one.
Nest Protect:
Nest protection is one of the most important appliances not only for smart homes but for any home. It is a carbon monoxide and smoke aka danger detector. It features rings of multi-colors that detect different functions. The device comes in both battery and alternative current powers. Not only the device is implanted in homes only to inform you when a huge incident is about to happen. But, it also alerts you when your kitchen is full of smoke created by burning food. The stove just because you are too indulgent in watching your favorite series. It is considered one of the best products of Google Nest till now.
Cheaper Chromecast with Google TV
One of the most anticipated home products in the portfolio is the low-end chrome set with Google TV in the coming Google Event. According to earlier rumors, it will also run on Android 12, offer streaming in 1080p, and support the AV1 video codec. The device has TV-like hardware that features Google assistant with a remote, ability to stream videos directly from Google, and all the movie streaming apps that are necessary to make your house into a movie theater. The cherry on top of your entertainment bundle is that Nest Hub is providing two Nest audios and a Nest Hub Max but, for that, you have to buy the speakers. Till now it is spreading that the new Chromecast will cost $30 and if it turns out to be true that there is no doubt that the product is economical.
Nest Security Cameras:
When talking about smart home products, security cameras come first in mind. New Google Nest 2022 might release the security camera. Nest has an indoor cam that has 1080p video resolution and night vision. Two-way communication, sound and motion alerts, a magnetic stand. An optional Nest Aware online service for a charge. Google Nest also has an outdoor cam. Which has the same features as the indoor one but is resistant to weather conditions. In 2021, Google Nest announced to launch of its cam product line with several updated features. For that, we have to wait for the New Google Nest 2022 event.
Above are some detailed descriptions of the products of the Google Nest 2022 portfolio. Other products of Google Nest are available on the official website of Google.