A Multinational Technology Company Apple Inc. is highly known for its software, consumer electronics, and online services among customers worldwide. Together with Alphabet, Amazon, Microsoft, and Meta, it is one of the Big Five American IT firms. Apple Inc. always comes into the market with new innovative products and strategic changes in technology. According to Apple News, Company is going to launch the iPhone 14 in its upcoming event on September 7, 2022.
Apple Inc.:
Apple Inc. deals in developing and selling smartphones, tablets, wearable devices, personal computers, and accessories. Some of its flagship products include the iPhone, Mac line of laptops and personal computers, Apple TV, iWatch, and iPad. Additionally, the corporation operates a quickly expanding services division that offers products including Apple Music, Apple TV+, and the iCloud cloud service. Stephen Wozniak and Steve Jobs established Apple in 1976.
iPhone:
Apple Inc. is the second-largest manufacturer of mobile phones. Apple's line of smartphones is the iPhone which exclusively uses its iOS operating system. The iPhone was first launched by Steve Jobs in January 2007. Since then, Apple has provided yearly updates to iOS and new iPhone models. The user interface of the iPhone is centered around a multi-touch screen, which was hailed as "revolutionary" and a "game-changer" for the mobile phone industry at the time of its release. The iPhone integrated a variety of features into a single device, including an internet browser, messaging, media player, camera, and wifi connectivity. 
iPhone Series:
Apple Inc. has released different series of iPhones. There are 33 different iPhone models that have been made as of July 2022. These iPhone series include iPhone 3G, 3GS, iPhone 4, 4S, iPhone 5, 5C, 5S, iPhone 6, 6S, 6Plus, iPhone 7, 7Plus, iPhone 8, 11, 12, 12mini, iPhone 13, mini, pro and max.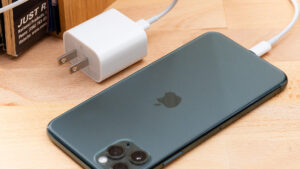 Revenue:
The iPhone is credited with helping to make Apple one of the most valuable publicly traded businesses in the world by generating significant earnings for the business. According to a report, the iPhone has provided more than half of the business's sales by the end of 2021.
iPhone 14:
According to Apple News, The company is likely to launch the iPhone 14 series in September this year. Apple is expanding its iPhone portfolio with the release of the iPhone 14 Series. The series will have four models including iPhone, iPhone 14 Plus, iPhone 14 Pro, and the incredibly specced iPhone Pro Max, and will be launched on the September 7 event of Apple which has been titled "Far Out".
iPhone 14 Pro:
This fall everyone is looking for a new iPhone series by Apple Inc. The iPhone 14 series is expected to be launched with new features and upgrades as compared to iPhone 13 Series. The big upgrade which is expected in this series is the iPhone 14 Pro 30W fast charging. iPhone 14 Pro should offer 30W charging which could make charging times of the battery much faster. According to the report, iPhone 14 Pro Max and iPhone 14 Pro will charge only at 30W when the battery is charged from 0 percent. iPhone 13 Pro is charged at 23W to 27W power, therefore to boost the iPhone 14 Pro charging time 30W power should be offered which will increase the refill speed of the battery and this will also not take an hour to charge the phone.