If we say that Apple's far-out event held on September 07 is one of the most anticipated and most awaited events in the tech world then it might not be wrong. Apple fans are desperately waiting for the unveiling of the iPhone 14 and its lineup product and now the wait is over. Below are the product details launched in the iPhone 14 Event Live.
Unveiling Of iPhone 14 And 14 Plus
As far as renders surface are concerned, iPhone 14 and 14 plus both are coming in bigger sizes. iPhone is 7.1 inches long whereas the iPhone 14 Plus is 6.7 inches long. The weight is 172-gram equals 6.o7 oz and 203 g equals 7.16 oz of iPhone 14 and 14 plus respectively. The body of the smartphone is made of ceramic shields and is water resistant as always. The company is providing its users with 21% more screen super retina XDR display. Colors available for iPhone 14 and plus are midnight, purple, starlight, red and blue.
A15 Bionic chipset is used and the operating system is ios 16. The chipset is the same as in the iPhone 13 pro. The model is coming with an extra megapixel with better functionality. The main camera of both smartphones is 12 megapixels as well as the selfie camera. The main camera gives 2.5x better results in low light while 2x better results with the ultra-wide camera. Furthermore, the novel iPhone is coming with longer battery life with a duration of 20 hours in iPhone 14 and 26 hours in iPhone 14 plus with a MagSafe charger for fast battery life.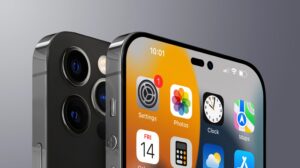 Unveiling Of iPhone 14 Pro And Pro Max
After the unveiling of iPhone 14 and 14 plus the Apple Event, 2022 moved towards the unleashing of iPhone 14 pro and 14 pro max. The pro and pro max series is 6.1 inch and 6.7 long respectively. Furthermore, the body is made with surgical grade stainless steel and is water and dust-resistant as well a ceramic shield is provided. In addition, the pro and pro max users now can customize their lock screens and can power on with only a glance because Apple provides them a glanceable lock screen. The models are available in deep purple, Gold, silver, and space black colors.
According to Apple News, both models have a super retina XDR display to provide a 2x brighter display. The chipset is A16 Bionic, a 48-megapixel main camera with an advanced quad-pixel sensor, 12-megapixel ultra-wide, and telephoto. The telephoto lens has 2X optical quality to its zoom range, whereas, 3x on the ultra-wide camera, and 2x on the main camera. The battery life is stretched to 23 hours long battery in pro while 29 hours in pro max. A MagSafe charger is given for faster charging. The model does not support normal physical sim cards, but dual eSIM cards.
Updated On Other Products
After the unveiling of the iPhone 14 and 14 pro lineup, the iPhone 14 Event Live 'Far Out heading towards the disclosing of other Apple products. Which include three smartwatches and one pair of AirPods.
AirPods Pro (2nd generation):
The new wireless earbuds of Apple are redesigned in order to reduce external noise and achieve a better audio experience. The AirPods have 6 hours long battery life and touch control to adjust the volume. Price: $249
Apple Watch Ulta:
The smartwatch is specifically designed for athletes and adventurers. Made with robust titanium, the watch consists of dual-frequency GPS, 36-hour-long battery life, and three bands specially designed for athletes. Price: $799
Apple watch series 8:
In series 8 Apple implants a temperature sensor which tracks down the menstruation cycle in women by checking the temperature. Moreover, crash detection, sleep sages, and workout apps are added. Price: $399
Apple watch SE:
Coming with three stylish cases of vibrant colors, the smartwatch is packed with safety features, health and fitness sensors, and a faster dual-core processor. Price: $249
Introduce A New Feature
Further in Apple Event 2022, a new feature is introduced which is the SOS emergency service through satellite. The user just has to answer a few questions asked by the company in assessing your off-grid situation and must have a clear view of the sky without any distraction of mountains and foliage which helps the company in jotting down your exact location. This feature is claimed a 'Life Savior' feature for adventure lovers. The emergency feature is available in November.