Google Stadia finally responded to rumours about closing Google Stadia. In a tweet, Stadia Google responded that they are not closing, instead, they are looking forward to bringing more games on Google Stadia.
Google Stadia
Google Stadia is a cloud gaming streaming service developed and managed by Google, Inc. It was initially released on November 19, 2011. Being a cloud gaming platform Stadia provides the best game stream experience which only requires a stable internet connection. With Google Stadia you can play PC games on your mobile phone or even on Android Television. This saves your hardware cost as well as makes your device multipurpose.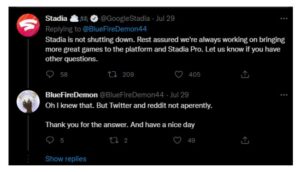 What is Cloud Gaming?
Cloud gaming is a type of online gaming that runs video games on remote servers and streams them directly to a user's device, or more generally, playing a game remotely from a cloud. So, you don't have to install games on your local system and you can access any game through remote servers via internet broadcasting.
Cloud gaming comes with many advantages and disadvantages as well.
The biggest advantage of Cloud Gaming is that you don't have to pay for better hardware in order to install better graphic games. You can enjoy high hardware requiring games with a PC having lesser specifications because you don't have to actually run that game on your hardware. You only get a video based on your inputs.

On the other hand, the biggest disadvantage is of the internet connection. In order to run games efficiently, you need an internet connection with higher bandwidth and lower latency or ping. 
Google Stadia does not have many interesting games to offer. This makes people believe that Stadia is down. So, rumours come into existence that Stadia is being closed by Google. But in Google Stadia 2022 update it is confirmed that Google has no plans to shut down Stadia. So, their tweet neglected the Google Stadia news of shutting down.