Status Voice Note
What next feature is waiting in the bucket of Meta-owned Platform? Not so long ago, one of the top messaging app introduced emoji reaction feature in the chat. Same like Facebook, the whatsapp users is now able to show reaction emoji of their choice on the respective chat. Now whatsapp is soon going to launch VOICE NOTE ON STATUS feature.
Why Whatsapp?
One of the most used messaging platform whatsapp is now owned by Facebook aka Meta. The app was launched by developers Jan Koum and Brian Acton in 2009. The app is used by numerous numbers of people to send free text and VOICE MESSAGES ON WHATSAPP. Furthermore; pictures, documents, voice as well as video calls can also made by it. 
Light on some past features launched by Whatsapp
In past whatsapp introduced many features, some of them are: whatsapp web, read messages without blue tick, send emojies of different skin colors and many others. Before unveiling its new VOICE NOTE ON STATUS feature lets shed some light on the past innovation which was done in the app.
Not so long ago whatsapp introduced its 'view once' feature. This function is specifically confines to the pictures send in personal or group chats. While sending a picture, sender can set it to view once mode so the receiver can see the picture only onece and later on it disappeared from the chat.
Let's rewind a little bit when whatsapp introduced speed up VOICE NOTE IN WHATSAPP by 0.5 % for lazy listeners. Now in the application any person can listen to whatsapp voice message by increasing its speed if they are in hurry or their speaker has a habit to stretch a short story into a long one.
Show your reaction to a specific message with any emoji of your choice. People are still unaware that one can use any kind of emoji not just limited reactions after tapping the plus sign available along with the reactions.
WHATSAPP VOICE MESSAGE is usually sent in one go which often create disruption and unclearity in voice note. To resolve this issue whatsapp introduced the pause and record option. With the help of it one can recollect their thoughts and resume the recording from the point where it was paused.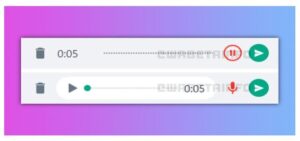 Another interesting feature of the respective application is the editing of text. Once the text was sent and something is missing or over, than one can copy paste the text on the clipboard and makes edition. Once the edition is done the previous text can be deleted or not depending on the sender's choice.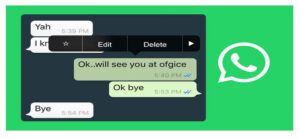 Voice Note on Status
VOICE NOTE IN WHATSAPP is one of the key feature due to which the statistical data of whatsapp users are increasing with the passage of time. The process of uploading voice notes as status is same like uploading pictures and videos. A small mic icon is available on the updated version and by tapping it one can share their VOICE NOTE ON STATUS with the respective audience. The feature is currently unavailable but can be used after an official announcement by the owners of the platform.
What's the Need? 
Same like in voice messages, the increase of speed feature is added because not every person like to listen long VOICE MESSAGES ON WHATSAPP, soon voice notes is also used as status. Most of us often refused to see bunch of pictures and videos uploaded by our friends and family and sometimes it is hectic to type lengthy text too. Therefore, for the ease of target population the company owners decided to add WHATSAPP STATUS VOICE NOTE feature which is soon to be available.
The target population of whatsapp users is high in South Asia but as the world is becoming more globalized; it is gaining popularity in abroad too. To stand in an international market it becomes necessary to innovate features and trends in the product same like use of VOICE NOTE ON STATUS in whatsapp. In addition, the status update feature of the application is confined to pictures and videos only but, according to the WABetaInfo, whatsapp voice notes can also use for future status updates.