The Big five American IT Company Apple Incorporation is highly known and famous for its innovative products. And it always comes into the market and gathers the attention of its customers. Through new Tech ideas and innovative product strategies. This time Apple is expected to launch a new innovative product Apple's AR/VR Headset for its customers.
Apple News:
According to Apple News, The company will launch its mixed reality headset. Which is "Apple's AR/VR Headset" in its upcoming event on September 7, 2022. But this news has not been confirmed by the company yet. Rumors of an Apple mixed reality headset have been circulating for a long time now. Recent rumors stated that the corporation might introduce this device between 2022 and 2023, according to various sources.
Apple's AR/VR Headset
Apple is aiming to expand its product category by adding AR/VR Headsets to its product line. This mixed reality headset is expected to be composed of various interesting features for its users. The predicted combination of virtual and augmented reality technology in Apple's headset will put the business more directly in competition with Meta Platforms Inc.
What is an AR/VR Headset?
An augmented/Virtual Reality headset is basically a device worn on the head. That enables users to see pictures overlaid on the actual surroundings. Such examples include Google Glass and Microsoft's HoloLens.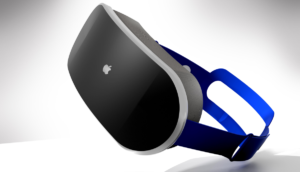 Apple's Headset Features
The new product of Apple "AR/VR Headset" has been expected to be manufactured with some interesting features which may include as below;
Similar to Airpod & iWatch: According to some leaked information Apple's mixed-reality headgear will likely draw significantly on the AirPods Max and Apple Watch.
Display: It is anticipated that this device would have two 8K OLED displays because it is supposed to be immersive.
Sensors: Headset would be composed of advanced sensors for gesture detection and environment.
Own Apps: According to reports, Apple's mixed reality headset will have VR and AR versions of several of the company's own apps, such as FaceTime and Maps.
Use Media in VR: This headset has an option that allows its users to watch media, play sports, and play games in Visual Reality (VR).
Silicon Chip: Apple's AR/VR headgear would have an Apple Silicon chip, just like the iPhone and iPad, so that it can run graphics-intensive apps without the need for a nearby device.
Large Battery: It is possible that the Apple AR headset will have a large battery because it will use the same 96W USB-C power adapter as the MacBook Pro.
Headset Lens: The "pancake" form of Apple's lens configuration helps to make the headset lighter and more portable.
Soft Fabric Body: It might have a sleeker design than Google's Daydream headgear, which also has a body made of soft fabric.
Screen: "Three display modules," consisting of "two Micro OLED panels" and "one AMOLED screen" will be used in the headset for low-resolution vision.
Processor: Apple's augmented reality headset will feature two processors, with the secondary chip handling "sensor-related computation" and the higher-end CPU having "equivalent computing capacity as the M1 for Mac." For a headset, that seems like a lot of computing power.
Wi-Fi Support: It is expected that the headset will support Wi-Fi 6E.
RAM & ROM: This device will probably have a 256GB hard drive and at least 8GB of RAM. Applications: You can expect to have the experience of different applications in this headset including music, fitness, messaging, calls, and a special focus on gaming.
Cost of Apple's Headset:
Apple's AR/VR Headset is anticipated to cost between $1,000 and $3,000 due to its intricacy and high-end technologies.
What is Apple announcing on September 7th?
Apple Inc. unveils new products, product redesigns, and product upgrades through its events. The majority of the time, Apple's website and YouTube channel stream these events live. It was expected that Apple Inc. will launch the AR/VR Headset at the upcoming event on September 7, 2022. The delivery date for Apple's mixed-reality headset was previously targeted for late 2022. According to analysts Ming-Chi Kuo and Jeff Pu. However, Apple has pushed back the product introduction until the first half of 2023 due to supply concerns. According to Kuo, the headset might be unveiled in the first months of 2023. With pre-orders following a few months later.
The iPhone 14 and Apple Watch Series 8 are the only two items we can be certain will be unveiled at the Apple Event on September 7. Apple has also been developing new iPads and Macs, but these products will probably not be released until October.